ABOUT MORGAN...
For 50 years Morgan Davis has been playing the blues, travelling across Canada, the U.S. and Europe. His performances draw from a lifelong study of the rich tradition of country blues, re-interpreting songs of the 1920s and 30s on electric instruments. His original compositions are infused with wit and a good dose of humour.
Originally from Detroit MI, Morgan Davis grew up listening to a rich variety of rhythm and blues, rock and roll, and the emergence of the Motown sound. The music of Jimmy Reed, Ike and Tina Turner, Chuck Berry and Fats Domino was in the air, emanating from car radios and jukeboxes. In 1962 his family relocated to southern California, where Davis found the preponderance of surf music unappealing. He discovered Bob Dylan, whose music introduced him to Woody Guthrie, Leadbelly, Pete Seeger and Blind Lemon Jefferson. The psychedelic era ushered in bands like Jimi Hendrix and Cream, he attended concerts by the Doors, Grateful Dead, Nitty Gritty Dirt Band, Buffalo Springfield, Mothers of Invention and the Electric Flag. Davis began to play guitar at 16 years of age.
Graduating from high school in 1965, Davis enrolled in Long Beach State College, where he became active in the campus anti-war movement as well as SDS. Being of draft age and refusing his 2-S student deferment, he made the choice to remove himself from the U.S. war machine and move to Canada. He settled in Toronto, which he happily found to be a city on the circuit of the great Chicago blues bands, and a rich musical education began by watching Muddy Waters, Howlin' Wolf, Buddy Guy and Junior Wells. Davis also had the opportunity to see and meet many great country blues players – John Hammond, Son House, Booker White, and Johnny Shines.
After a brief stint teaching junior high school, Davis began his musical career while residing at Rochdale College, Toronto's high rise mecca for artists . Opportunities to jam with other players were frequent, and Davis happily immersed himself in music until he began to get the occaisional gig, and he soon found himself in a band called the Rhythm Rockets, which played a variety of vintage rock and roll, country and blues. He began touring, eventually forming his own blues band, the Knights of the Mystic Sea.
Over his five decade career Davis has opened the show for Willie Dixon, Albert King, John Hammond, John Lee Hooker and Albert Collins. He has jammed with Muddy Waters, James Cotton and Johnny Shines. He has backed up Sunnyland Slim, Snooky Pryor, Hubert Sumlin, Willie "Big Eyes" Smith and Dr. John.
Davis has released two 45 RPM records, two LPs, and nine CDs.  His songwriting talent received wide recognition when Colin James covered his searing ballad, "Why'd You Lie?"
For the past 20 years he has made his home in Lunenburg County, Nova Scotia.  Davis performs solo, playing traditional and original blues on electric guitars and his three string cigar-box guitar. Still a road-addicted touring musicianer, Davis averaged 200 days a year on the road…..until the sudden intrusion of the worldwide Coronavirus pandemic.
…he hopes to be playing the blues until he drops.
Current GIG listings are right this way:
THE MORGAN DAVIS SCRAPBOOK
Walmer Road, Toronto 1970
On the balcony, Walmer Road, just about to move into Rochdale, down the street.
Knights of the Mystic Sea 1973
My first band as a leader. Phil Strong, drums, Paul Miller, sax and harp, Gator Jones, bass. Gator is one my oldest pals and resides in Florida on his palatial estate. Phil is still playing in Toronto and I done lost track of Paul.
El Mocambo 1978
…with my fancy-ass white disco suit. I recall going to the Neptune Bar B Q after a gig wearing this suit an' eatin' ribs in the parking lot with James Harman and Gene Taylor while we was drunk..I mean J..U..N… drunk. an' wakin' up the next morning to find NOT ONE DROP of barbeque sauce anywhere! Miracles do happen.
Autoroute 20, outside Quebec City
4 AM after the gig. Flat tire on the "Soul Train", my '69 Ford Econoline. Steve Chadwick chronicles all. (the rest of the band changes the tire.)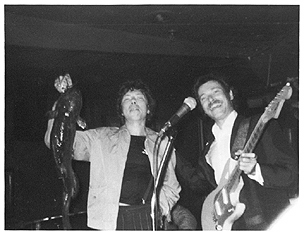 El Mocambo 1979
Howie Zephyr, winner of the catfish contest held by the band. Folks brought everything from 1 pounders to giant stuffed cats to this winner, 8 3/4 pounds. The prize was a box of beer, baloney sandwiches and a day fishin' with the band on Lake Erie…or fifty bucks. Howie took the fifty.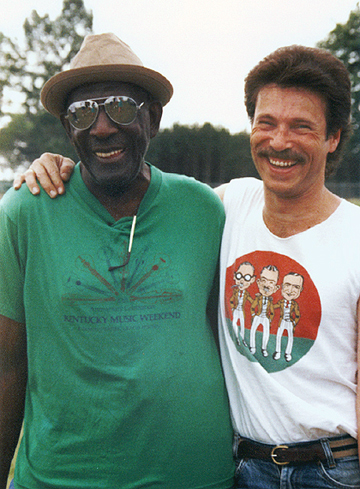 Mariposa Folk Fest Mid 80's Yank Rachel
A great player who began recording in the late 20's with Sleepy John Estes. I was playing that "Going down to Brownsville, take that right hand road.." stuff and he popped into the tent, listening. Afterwards he told me "I recorded that song in 1929". I said, "Yes sir, that's the record I stole my version from." He cracked up.
with Snooky Pryor, PineTree Tavern 1984
As I recall this was Snooky's first gig in Toronto. He was full of energy…a blues dynamo! Man, did we have some fun and Snooky worked us as hard as he worked himself! Snooky was a pioneer of amplified harp, the bridge between Sonny Boy and Little Walter. Gene Taylor, a serious record collector, was amazed to see this obscure name from old record labels performing in Toronto.
Cigar Boxin'
In recent years, one of the most popular additions to my sound has been the Cigar Box Guitar. This little beauty was custom built for me by my good friend
Darren Brown
.
A school somewhere in Toronto 1971 ?
I don't know how we got this gig. My pal Slim Smith wrangled it somehow. I was living at Rochdale College at the time, getting a 'higher' education.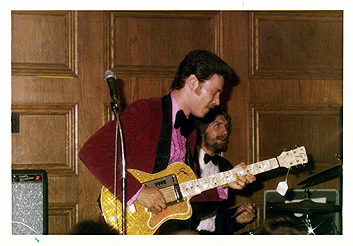 With the Knights of the Mystic Sea
…playing a gold glitter Goya borrowed from Ring Music. Dig the price tag… hey I was tryin', not buyin'!
Pembroke Hotel, Pembroke Street, Pembroke, Ontario
I played this hotel for years. Really like going home to Momma's because they had five little ol' ladies cooking and meals were part of the deal. A week's vacation in the north. I remember sunbathing on the roof only to find tar all stuck to our blankets…and I recall waking up after my birthday celebrations the previous night…naked, except for my boots..
Long Beach 1976. Ed Dopera
I went to visit Ed at his HoundDog instrument company to have my old National fixed up. He was a great guy, took a lot of time to show me around and tell me about the days of inventing the Dobro and National guitars with his brothers. This was a custom gold plated, fancy inlay, deluxe, superfine one of a kind showpiece!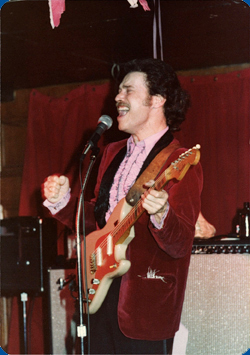 Midwich Cuckoo New Year's Eve 1979
The Midwich was in the Westminster Hotel, which was the official hotel of all the blues guys who came to town. Muddy, the Wolf, they all stayed there. I took lotsa blues lessons in those rooms – first met Al Lerman in Carey Bell's room! Muddy taught me "Can't Be Satisfied" after Calvin "Fuzz" Jones, Muddy's bass man,dragged me to Muddy's room so he could hear me play.All those cats were so generous…Muddy would have all his meals delivered from the Underground Railroad, the only soul food restaurant in Toronto. From 1969 – 1975 I saw Booker White, Johnny Shines, Son House, Sonny Terry and Brownie McGhee, Muddy, Howlin' Wolf, Lightnin' Hopkins, Buddy Guy and Junior Wells, Sunnyland Slim, and many more. What a great blues town Toronto was!!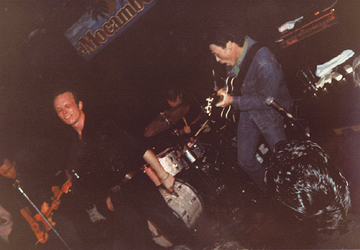 El Mocambo 1983. Sitting in with the Blasters
Gene Taylor had played with me from 1978 – 1980 and his reputation grew. After stints with Downchild, Ronnie Hawkins, and Amos Garrett, Phil asked Gene to join the Blasters in California. Well, a chance to tour the world AND play with Lee Allen? I had a ball sittin' in… they rocked that stage!!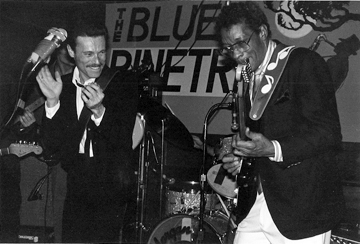 with Hubert Sumlin, PineTree Tavern 1984
My all-time favorite guitar player. MAN, you got to know that I watched Hubert way back with The Wolf 15 years before this – and then I got to back him up with my band for a whole week!! And EVERYBODY came down that week – Colin Linden, Mike Pickett, Donny Walsh and the Hock, well, they all wanted to listen to or play with Hubert. What a gentleman, and the HELLUVEST guitar player. I got lots of Hubert stories… I'm sure he won't mind if I pass one on now and then…
...same School Gig
with Slim Smith of Comanche Oklahoma. I'm playing my first National Steel guitar, found in a pawn shop for $90 – it had a big hole in the back …still had the SOUND.
Knights of the Mystic Sea promo shot, 1974
This was the second line-up of my band. Fraser Finlayson on harp and vocals, Jimmy Reed on bass, and Danny Haugh on drums. Don't look like a blues band, you say? Simple. This was the beginning of disco time, and calling yourself a blues band on the Ontario circuit was the kiss of death..so….we got the crushed velvet tuxes, slick COLOUR promo shot (most everybody else's were black and white) and didn't mention blues in the band name. When the agents and club owners asked what kind of music we played… we said "Dance music". So we was gainfully employed through them hard times and played NOTHIN' BUT THE BLUES.
Midwich Cuckoo Tavern, Toronto 1975
Playing with
David Wilcox
in his first band. David had just finished a stint with Maria Muldaur. As I recall, Amos Garrett was in the crowd that night. We was a wacky outfit – playing everything from Duke Ellington to Moe Bandy – David was wildly experimental. It was amazing to stand next to him every night and watch all that new stuff pour out of his soul.
Me and my old buddy James Harman
…clowning around with some of James' vintage collection of all kinda cool musical stuff what we pulled out of his garage in California. Talkin' bout back in 1977…when we were young men…no grey hair, running wild and making a racket!
Schooner Olympics, Halifax l981
Some crazy kinda athletic action after the gig.
We in the big time now boys!
Finally UPSTAIRS at the El Mocambo after serving many, many years downstairs.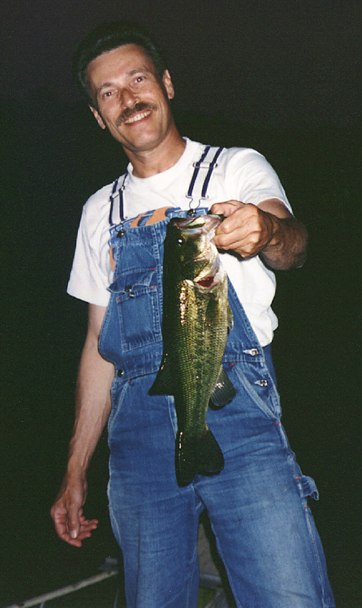 Huntin' for hawgs after the gig
My bassman Steve Chadwick and I used to do a lot of fishing on the road. I used to time my gigs in Lindsay, Ontario for the walleye opener – 12 midnight – we'd pack up the gear and run to the river. Haulin' in walleye to take back to Hogtown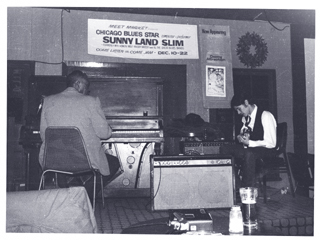 Meetmarket with Sunnyland Slim, Toronto 1972
I was playing with the Rhythm Rockets when Sunnyland came to play this joint in the basement of the Colonial Tavern. I sat in the first night and he asked me to play the week. The Rhythm Rockets had to do without me! Sunnyland was a most generous and humble man, and taught me a lot. He could holler all that old-time stuff I loved. He played with them ALL – yes, even Robert Johnson.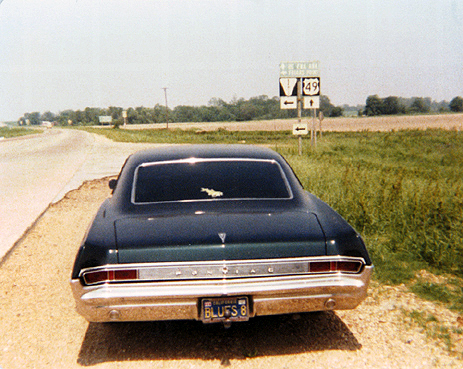 My 1965 Pontiac "Catfish" in Florida
I bought this Pontiac Catalina from friends of my folks – the back seat had never been sat in – for $30!!! Then I combed the junkyards for a light-up Chief Pontiac Indian hood ornament, found one, had that thing put on custom, an' painted it dark metalflake green. A seriously bad ride. It helped win my wife's heart….we used that back seat. Here it is stopped on Highway 49 in Mississippi, outside Clarksdale on my way to Friars Point and West Helena, Arkansas in 1978.
Sundance Saloon Long Beach, California 1977
After my charges were dropped in the U.S. in 1976, I went back down to California. Gene Taylor found me playing at a little joint called the Bodega. I went down to his gig and he knocked me out. He introduced me to James Harman, who was in semi retirement… reconing speakers. Well, we convinced James to make a racket with us, and we started playing this house gig for no dough- passing the hat. Phil and Dave Alvin, later to form the Blasters, used to sit in regularly. After the gig – Neptune Bar-B-Q or Double Chili Cheeseburgers!!!!! The perfect late night snack.
Catfish Manor 1978
This was our promo shot – in our living room. Me an' Gene was sharing a house with Crawdad, a dobro player in Toronto's east end, one block from McDonalds. Gary Kendall played bass and Danny Haugh was our drummer.
Albert's Hall Dec. 1983, Albert King
Colin Linden and I got to open for one of my heroes – King of the microtonal bends – playin' upside-down backwards and left-handed! Me an' Colin Linden watched him from the front row, hopin' to cop some stuff. After about two songs we looked at each other, held out our outstreched palms and shrugged – it was like watching a guy from another planet. Albert could pull them little strings instead of pushing them, and got more stuff out of one fret than any other player I've ever seen…
Grossman's Tavern Toronto
On my way to record with Tom Jardin, the hardest workin' all-around musician's friend. Tom supplied the two live cuts on my first LP.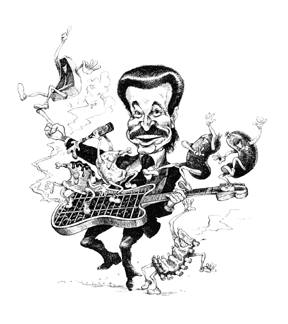 BBQ
Morgan Davis… the king of barbecue!
It's been a well recognized career for Morgan, with numerous awards honouring his
lifetime commitment and contribution to Blues Music.
2018
one of the TOP CD's of 2018
"DOWNBEAT"
2005
SONG WRITER OF THE YEAR
"Maple Blues Award"
2004
RECORDING OF THE YEAR
Painkiller "Maple Blues Award"
2004
SONG WRITER OF THE YEAR – SOCAN
"Maple Blues Award"
2000
ACOUSTIC ARTIST OF THE YEAR
"Toronto Blues Society"
1999
SOCAN SONG WRITER OF THE YEAR
"Maple Blues Award"
1995
BLUES ARTIST OF THE YEAR
"Jazz Report"
2004
BLUES ALBUM OF THE YEAR
Painkiller
"JUNO"
2004
MALE VOCALIST OF THE YEAR
"Maple Blues Award"
2004
PRODUCER OF THE YEAR
Morgan Davis
w/ Alec Fraser
"Maple Blues Award"
1999
PRODUCER OF THE YEAR
Blues Medicine
"Maple Blues Award"
1996
BLUES WITH A FEELING AWARD
"Toronto Blues Society"
1994
BLUES ARTIST OF THE YEAR
"Jazz Report"
THE MORGAN DAVIS VIDEO GALLERY
Waffle House Blues
Courtesy of talkin' blues Media

Pontiac Blues (vintage MD)
Morgan Davis with Snooky Pryor c.1987
I Got My Own
Courtesy of: NorderstedtMusik

Talkin' Blues c.2002
Courtesy of talkin' blues Media

THE MORGAN DAVIS DISCOGRAPHY

Morgan Davis' music is available for download by clicking any one of the iTunes logos listed below,
or you can make a CD purchase (if inventory is still available) from the Electro-Fi Records website,
or by contacting Morgan Davis directly from the "Contact Section" of this website…
(or straight off the stage via Morgan's Travelin' Boutique when he hits your town).
Festivals, Concerts, Clubs, House Parties, Dances, Love-ins,
Celebrations, Insurrections, Conflagrations, Agitations, etc…
…Morgan Davis is available!

Questions, comments, suggestions, praise, scoldings,
compliments, fishin' spots, or you simply want to say "hey!"
…Morgan wants to hear from YOU!

Contact Morgan directly via eMail
by clicking on this handy white envelope
For LIVE appearance bookings, please contact Bullhead Management at: 1-902-275-2921
---